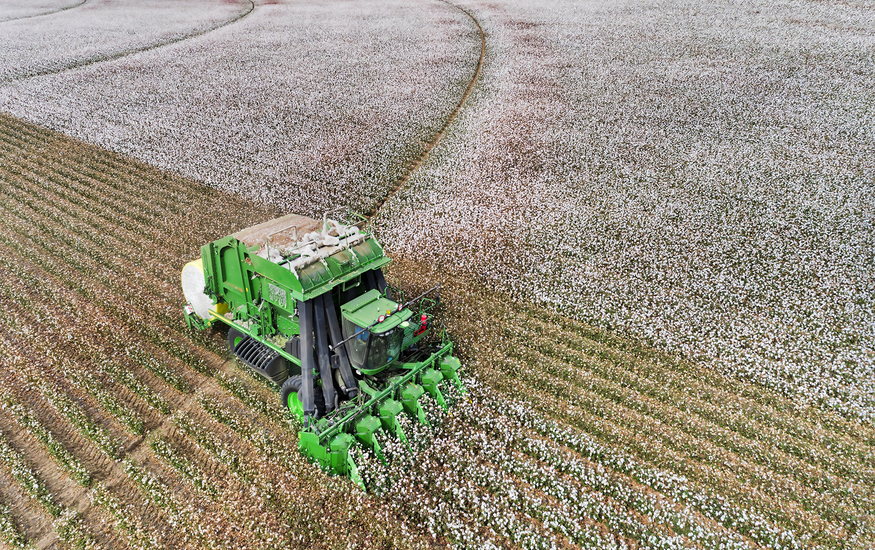 USA's Southern Charm & Farm
Experience the famous charm and hospitality of the Southern United States, as we travel the countryside and visit farms growing crops unique to the south.  See tobacco, sweet potato, and pickle farming in North Carolina. In Georgia, visit a cotton farm and gin, a pecan farm, and hear the story of Vidalia Onions at an onion farm in Vidalia, Georgia.  Alabama is the #1 producer for peanut production, so we tour a farm and the National Peanut Buying Point, where the area peanuts are inspected. Enjoy the lovely and historic city of Charleston, South Carolina, where the seafood is as fresh as you will find, and rock 'n roll in Memphis, Tennessee, as we visit Elvis' Graceland Mansion and museum, as well as his childhood home in Tupelo, Mississippi.  We finish the tour in Arkansas, where we see and learn about the interesting rice crop, of which 40% of U.S.A.'s production is grown in the state.  Us folks from the north always get a kick out of seeing the rice farms, which are uncommon in our neck of the woods.  We will be traveling during their harvest time for many crops, adding to the excitement of both the farm visits, as well as the scenery throughout the countryside. And don't forget about the amazing southern cooking!  You're sure to have fun on this informative tour!
Dates Available
August 24 - September 2, 2023 SOLD OUT
Itinerary
Day 1: Arrive in Raleigh, North Carolina
Shuttle to your included hotel and enjoy an overnight stay.
Day 2: Nashville, NC
After breakfast, meet-up with Larry Rupiper for the start of your farm tour. Our deluxe motorcoach will be ready at 8:00 AM. We'll travel a short distance to Nashville, North Carolina, to meet a farmer who shows us his sweet potato operation. We are here during the sweet potato harvest timeframe, so you can learn the entire process - and even how to choose the right sweet potatoes for cooking that special dinner at home. Sweet potato farming is big business in the south, and you'll see how dependent they are on the migrant workers that you've read about. The workers come back each year to help in the fields. You may learn a little about migrant workers from the farmer, who has spent a lifetime hiring and employing them. Enjoy great southern cooking and overnight near Nashville, NC. (B, L, D)
Day 3: Nashville, NC / Fayetteville, NC
Today we visit a pickle farm and perhaps witness their complicated pickle harvester, as well as learn the ins and outs of the pickle business. Next we visit a tobacco farm and hope to see them harvest the leaves and transport them to their drying facilities. Growing tobacco is still big business in the south, even if it has shrunk substantially over the last decade. It's quite interesting how the whole system works. The old tobacco barns of years gone by don't cut it any longer for the big operators. They have scores of tobacco dryers all lined up to wheel in whole racks of tobacco leaves to dry. You'll be surprised at the size of a tobacco seed. Tobacco farms in the US produced approximately 533 million pounds of tobacco in the year 2018. To reach this total, tobacco was grown in about nineteen states in the US. Of these, the states of North Carolina, Georgia, and Kentucky combined grow nearly eighty percent of the production. Even though the tobacco crop has dropped substantially, the tobacco lobby is quite strong and continues to lobby its cause. North Carolina has 12,095 farms producing tobacco for commercial sale. 320,599 acres are devoted to tobacco production in NC, with the average size of land dedicated to tobacco covering 26.5 acres per farm. If you think the corn and soybean farmers are subsidized, wait until you see the southern-grown crop subsidies! It's eye opening! (B, L, D)
Day 4: Fayetteville, NC / Charleston, South Carolina
Visit the charming port city of Charleston, founded in 1670. The city is defined by its cobblestone streets, horse-drawn carriages and pastel antebellum houses, particularly in the elegant French Quarter and Battery districts. The Battery promenade and Waterfront Park both overlook Charleston Harbor, while Fort Sumter, a federal stronghold where the first shots of the Civil War rang out, lies across the water. Our horse-drawn carriages will provide a comfortable city tour with commentary while meandering through the scenic streets of Charleston. This is the only night that dinner will not be included, so you can enjoy your choice of seafood or any other cuisine while staying in Charleston. It's a great experience! (B, L)
Day 5: Charleston, SC / Vidalia, Georgia
Today we depart Charleston and drive west past Savannah and on to Vidalia, Georgia, where we enjoy a break and a great southern-style lunch. While in Vidalia, we'll visit the Vidalia Onion Museum and an onion farm. They should be planting at the time of our tour, so you can see how the professionals plant their onions. Along with being a sweet onion we all take for granted, the story behind Vidalia onions is really interesting. Learn this story and much more while in Vidalia. Time permitting, we may visit the nearby college field trial plots. After this engaging tour, we check-in to our hotel and overnight. (B, L, D)
Day 6: Vidalia, GA / Americus, GA
Today our tour takes us to a large pecan operation in the heart of Georgia. It will be pre-harvest time during our tour, so you will be able to see the actual orchards of nearly ripe pecans, as well as the facility used for shelling, preparation, packing, and shipping. Next we learn more about the peanut industry, including a visit to a peanut farm and a large shelling and processing facility. Georgia grows nearly 50% of all peanuts grown in the USA. The harvest should be in full swing, so you may be able to see just how peanuts are harvested. You'll also learn how they are planted, and everything in between! In the same area, we visit a large cotton gin and cotton farm. It will be the very start of the cotton harvest, so many of the cotton bolls should be open, showcasing their fluffy-white beauty. Tonight we stay in Americus, GA in a lovely and historic hotel. (B, L, D)
Day 7: Birmingham, Alabama
We travel to Plains, Georgia, where President Jimmy Carter was born and still makes his home. Take a quick look around this small town that raised USA's 39th president. We also visit one of the peanut buying points in Plains, and then we travel northwest toward Birmingham, Alabama, the center of the civil rights movement in the 60s. Traveling along this route, you'll be exposed to a territory that perhaps you've not seen the likes of - different crops, different landscape, and different demographics. Our goal is to show you as much southern farming as possible, mixed with some fun events and sights. (B, L, D)
Day 8: Birmingham, AL / Memphis, Tennessee
Our southern journey continues as we head northwest via Tupelo, Mississippi, the childhood home and birthplace of Elvis Presley. If you're an Elvis fan, today is your day to lavish in the history, the nostalgia and the incredible music of Elvis Presley as you visit Graceland. Elvis' mansion, museum of costumes, cars, motorcycles, his 707 Boeing customized jetliner, and his smaller private jet are all on display for you to enjoy. He truly was a mover and a shaker! Time permitting, we'll make a stop at Sun Studios the very place Elvis recorded all those early hits. We'll stay the night in Memphis and enjoy some good BBQ. The night is yours to explore world-famous Beale Street, where you can catch some live music, have a drink, or simply people watch. (B, D)
Day 9: Memphis, TN / Little Rock, Arkansas
Travel west to Arkansas, ranking first among rice-producing states, accounting for more than 40% of U.S. rice production - primarily long and medium grain varieties. Rice production is concentrated in the eastern half of the state, stretching from Louisiana to the Mississippi border. We visit a couple of large rice farmers and later a rice mill that processes rice and gets it ready for the grocery shelf. The harvest should be in full swing at this time - sure to be fun! Overnight in Little Rock. (B, L, D)
Day 10: Little Rock, AR / Arrive Home
After breakfast, your tour will come to a close. A hotel shuttle will take you to the airport for your flight home. (B)
Rupiper Tours reserves the right to make minor adjustments to the itinerary if necessary.
What's Included
All Hotel Accommodations • Most Meals (B, L, D)
Deluxe Motorcoach Transportation
All Admissions to Events Listed • Driver Gratuities
Multiple Farm Visits • Rupiper Tour Manager Throughout
Need help? Call us at
1-(888) 414-4177
or (605) 665-1212 for local callers
Tours Recommended for You