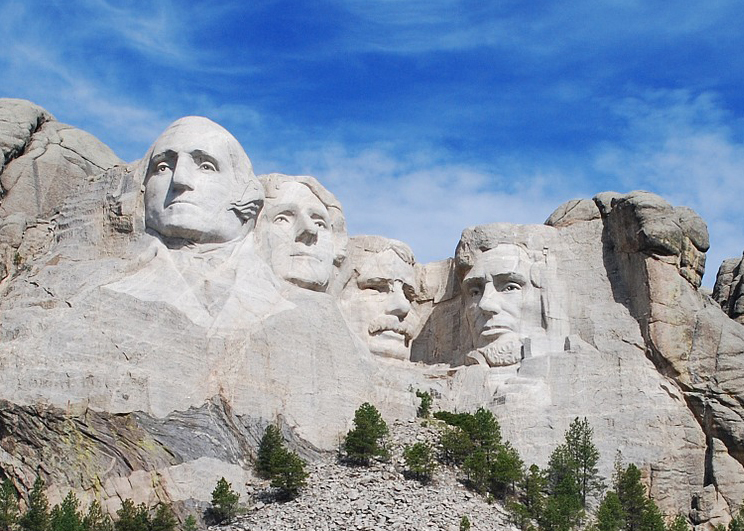 Midwest Farms & The Black Hills
Discover the beauty of the Badlands, the Black Hills, & the heart of the Midwest. Visit the Strategic Air Command in Omaha, a feedlot, and rich Iowa farmland. See the Corn Palace and experience the Old West in Deadwood. Ride an 1880s steam train and view the wildlife in Custer State Park where buffalo roam free.  Witness one of USA's largest herds at the annual Buffalo Roundup.
Itinerary
Day 1:             Arrive in Omaha, Nebraska
Arrive in Omaha, Nebraska, the heart of the Midwest, where you'll be provided with a complimentary shuttle service if flying into Omaha and an included hotel regardless of your mode of transportation. 
Day 2:             Omaha, Nebraska
Meet your tour manager and begin your journey focusing on one of America's most well-known and foremost military defense systems, the Strategic Air Command.  The SAC and Aerospace Museum is a wonderful treasure that preserves an important era in our nation's history.  The facility was built underground for cutting edge response in the event of a nuclear attack, and it is now one of Nebraska's top attractions.  Here you'll see planes like the SR-71 Blackbird, the B-29 and the B-52 bombers along with various missiles, space craft and artifacts featuring Nebraska's own astronaut, Clayton Anderson.  Following our visit, we travel a short distance across the Missouri River to some of Iowa's best farmland and visit a prominent farmer, who grows corn and soybeans.  Learn of the trials and woes of Missouri River bottom farming as well as irrigated farmland. This evening, climb aboard a riverboat for a relaxing cocktail cruise on the Missouri River for views of Omaha's most formidable sights. Overnight in Omaha.  (B, L, D) 
Day 3:             Omaha, Nebraska / Sioux Center, Iowa / Yankton, South Dakota
Today we travel northeast into Iowa to see some truly "rich" farmland. In 2019, land in this area sold for over $18,000 per acre.  Here you'll be able to learn the economy of these high dollar land values. Following our visit, we travel towards South Dakota, stopping in Nebraska for a visit to a nice 14,000 head feedlot. This feedlot brings in cattle in the 600-pound range and finishes them out on mostly high moisture corn snaplage, hay, or silage and supplement. We end the day with a stop in Yankton, South Dakota for a visit to the home offices of Rupiper Tours followed by dinner and drinks at a town favorite restaurant.  (B, L, D) 
Day 4:             Yankton, South Dakota / Mitchell, South Dakota / Wall, South Dakota
Today we travel northwest to Mitchell, SD, the home of the world famous "Corn Palace". Each year a theme is chosen and the palace is adorned with new corn, silks, and a few husks to portray that theme. It's the only one in the world!  You'll enjoy this incredible use of the area's production. Next, we are off to the Phillip, SD, area for a stop at the very start of South Dakota's Badlands National Park and also the Minuteman Missile National Historic Site.  This missile site was established in 1999 to illustrate the history and significance of the Cold War, the arms race, and intercontinental ballistic missile development. This National Historic Site preserves the only remaining Minuteman II ICBM system in the United States.  Here you'll be able to look into the silo and view the actual nuclear missile still standing in the silo ready for launch.  Next, we meander through the Badlands jagged spires that were formed millions of years ago. Roaming this barren landscape of sprawling grasslands and moon-like terrain are Bison, bighorn sheep, and prairie dogs. We'll travel the Badlands Loop to reach the very heart of this unbelievable landscape.  Stop at numerous scenic lookout points to take photos and touch the soil.  It is unbelievable! Tonight, we stay in Wall, SD, the home of the world-renowned Wall Drug.  (B, L, D) 
Day 5:             Wall, SD / Sturgis, SD / Black Hills / Deadwood, SD
This morning we travel west enroute to the Black Hills passing through the famous motorcycle rally town of Sturgis and on to nearby Deadwood and Lead, SD.  Lead (pronounced Leed) has been called the richest 100 square miles on Earth. Over a period of 126 years, miners pulled more than 41 million ounces of gold and 9 million ounces of silver from the area.  In December 2001, however, that limit arrived. Learn the process of extracting gold, and perhaps you will get lucky and strike it rich! Stop in Sturgis to see this town famous for the annual motorcycle ralley. Following our visit, we check into our Deadwood hotel, where the evening is yours to explore this unique town that depicts the days of the Wild West.  (B, L) 
Day 6:             Mount Rushmore / Custer, South Dakota
Today is the day you've all been waiting for, a journey through the Black Hills to Mt. Rushmore.  Completed in 1941 under the direction of Gutzon Borglum and his son Lincoln, they sculpted granite faces depicting U.S. presidents George Washington, Thomas Jefferson, Theodore Roosevelt, and Abraham Lincoln, measuring roughly 60-feet high. Gazing at this incredible sculpture always makes your heart grow larger and beat faster, no matter if it's the first time viewing or if you've seen it many times over. These four presidents helped develop and continue America's rocky road to freedom.  Next we visit another South Dakota landmark, Crazy Horse Monument. Sculpted on a mountain over 6,500 feet tall, it pays homage to the Oglala Lakota warrior, Crazy Horse, riding a horse and pointing to his tribal land. This monument is much larger than Mt. Rushmore and is still actively being sculpted.  After we indulge in the heart-warming beauty and grandeur of these two monuments, we drive to nearby Hill City, where you'll visit the South Dakota State Train Museum and then board the 1880 Steam train and travel to the town of Keystone, a quaint fun little town at the near foot of Mt. Rushmore.  (B, D) 
Day 7:             Custer State Park / Buffalo Roundup / Rapid City, South Dakota
Harken back to the Old West as we witness a buffalo roundup in Custer State Park's 71,000 acres. Each fall, the ground rumbles and the dust flies as cowboys, cowgirls, and park crew saddle up to bring in the thundering herd of buffalo. The world's largest publicly owned buffalo herd, totaling over 1,400 head, is rounded-up each fall for culling, testing, and vaccinations.  Watch from the grassy hilltops as the valley below is trampled by these beasts of a by-gone era pounding their way to the corrals. Following the round-up we travel to another beautiful area.  Enjoy impressive views sprinkled along the Black Hills.  Finish with an entertaining live music variety show and dinner, before traveling to nearby Rapid City to spend the night.  (B, D) 
Day 8:             Depart Rapid City, South Dakota
After breakfast, an included shuttle will transfer you to the airport as necessary to accommodate your flight home. (B)
Rupiper Tours reserves the right to make minor adjustments to the itinerary if necessary.
What's Included
All Hotel Accommodations • Most Meals (B, L, D)
Deluxe Motorcoach Transportation
All Admissions to Events Listed • Driver Gratuities
Multiple Farm & Technical Visits • Rupiper Tour Manager Throughout
Need help? Call us at
1-(888) 414-4177
or (605) 665-1212 for local callers
Tours Recommended for You