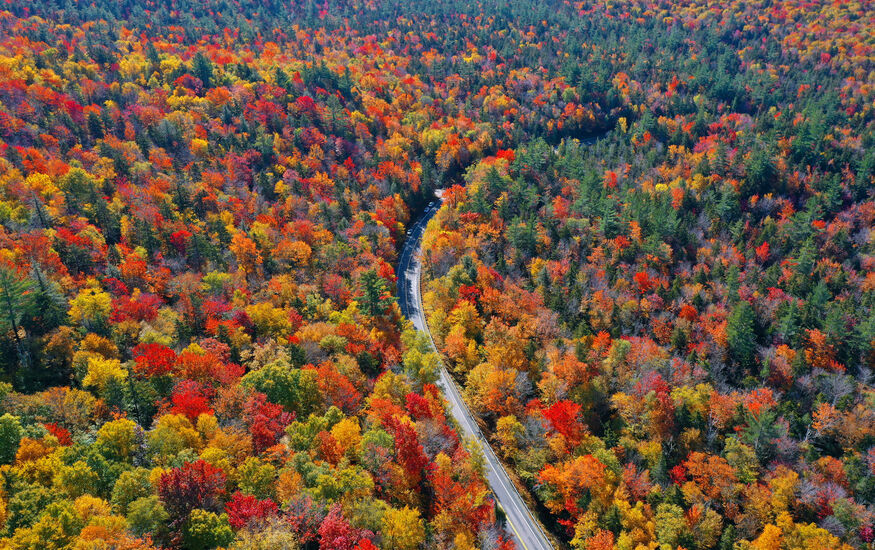 Autumn in New England - Fall Colors
Take in the beautiful autumn array of gold and auburn leaves as you enjoy an integrated farm tour. This is truly a once-in-a-lifetime experience - join us and see why everyone speaks so highly of this colorful adventure. Travel through the most colorful states in the Union: Vermont, New Hampshire, and Massachusetts. Begin in historic Boston and witness the incredible transformation of scenery as we make our Newport, Rhode Island, filled with unique architecture and New England opulence. Journey through the picturesque White Mountains, visit a cranberry farm, a maple sugar farm, and much more!
Dates Available
October 7 - 13, 2023 SOLD OUT
Itinerary
Day 1: October 7 Arrive in Boston, Massachusetts
Boston is the epicenter of Liberty, where your tour begins. Transfer from Logan Airport with the hotel shuttle to your included hotel. Room check-in begins at 3:00 PM. Your tour manager will be on hand to brief you on the ensuing days.
Day 2: October 8 Boston, Massachusetts
Enjoy a city tour of Boston with your local guide. See many important aspects of the Freedom Trail. Learn about Paul Revere and his famous midnight ride, traveling from Lexington to Concord. Hear about the Minutemen and their first skirmish. Enjoy free time for lunch at Quincy Market, where a wide variety of meals are at your fingertips. Walk into the North End, best known as Boston's Little Italy, where a maze of narrow streets showcase some of the city's oldest buildings. Visit the Granary Burying Ground, where famous patriots such as John Hancock, Paul Revere, and Samuel Adams are laid to rest. Stop by Fenway Park, see the oldest public park in the U.S. - Boston Common, dating back to 1634, and climb aboard the USS Constitution, AKA Old Ironsides, the world's oldest ship still afloat. Enjoy a photo stop at the place where "Everybody knows your name," Cheers Bar. Maybe you can buy Norm a beer! (B, D)
Day 3: October 9 Boston / Newport, Rhode Island / Middletown, RI
Depart Boston traveling south along the coast, and land at Plymouth Rock. See the "Rock" commemorating the Mayflower Ship landing in the United States in 1620. Climb aboard the Mayflower II, a beautiful recreation of the Mayflower ship. Built in the 1950s and fully restored in 2020, this full-size replica gives you an idea of what it was like traveling for months across the ocean. Many are surprised by its size! Here we can also see the large granite National Monument to the Forefathers, which was created to honor the ideals on which Plymouth Colony was founded: faith, education, law, morality, and freedom. Journey a short distance west into Rhode Island and cross the Sakonnet River Bridge to Aquidneck Island, a posh piece of real estate that is home to many historic mansions, such as the summer White House of President Eisenhower and the 70-room Vanderbilt "cottage." Enjoy free time to stroll the quaint Thames Street, filled with restaurants and shops, best visited on foot. Newport's famous Ten-Mile-Drive combines the history of a wealthy summer community with fabulous recreational areas including public parks and miles of public access shoreline, to rank as one of the most popular "drives" in the country. Relax as we cruise along this famous route, taking in the opulent architecture and the vast Atlantic Ocean. Tour the Vanderbilt's famous property called The Breakers, the grandest of Newport's summer cottages and a symbol of the Vanderbilt family's social and financial preeminence during the Gilded Age in turn-of-the-century America. See Boyd's Windmill, built in 1810 and one of the few surviving eight-vane smock mills in the United States. The harnessed wind energy was used to grind feed for 135 years. (B, D)
Day 4: October 10 Middletown, RI / Concord, MA / West Lebanon, New Hampshire
Return to mainland Massachusetts and travel a short distance to learn about one of New England's most famous fruits – the cranberry. Visit a cranberry farm, also known as a bog, and learn how this vibrant crop is produced. It is quite unique! Our visit is during their harvest period, so we hope to witness them extracting this vibrant fruit from the water-filled bogs. Next we make our way north to the Concord Museum in Massachusetts. Opened in 1886, it is one of the oldest museums in the country, housing one of the USA's most treasured collections of Americana. Learn about the literary history surrounding the Revolutionary War with collections from Ralph Waldo Emerson and Henry David Thoreau. History comes to life as you see one of the Lanterns that signaled Paul Revere to begin his famous ride. Continue north to visit a 600-acre diversified farm with 35+ acres in certified organic vegetable production. The farm is also home to cattle, hogs, lambs, and chickens, all rotated on pasture as the seasons allow. Milk from their dairy herd is bottled raw or turned into a wide variety of dairy products in their creamery. (B, L, D)
Day 5: October 11 West Lebanon, NH / Stowe, Vermont
Visit the Billings Farm & Museum, which offers diverse, interactive programs that focus on rural life, work, and land stewardship as reflected in the traditions and values of 19th century farm families. Their working dairy has about 70 Jersey cattle onsite, perfect for making the famous Vermont cheddar. As we travel north, the fall colors really begin to explode with vibrancy. Enjoy a stop at a maple sugar farm, where you will learn how Vermont's sweet nectar is produced. This eighth generation farm will provide information regarding their special crop, as well as an opportunity to sample a variety of syrups, jams, jellies, and more. Perhaps their maple kettle corn will be the unique treat you are looking for! Continue north to Stowe, Vermont. With a population just over 5,000 inhabitants, this "Ski Capital of the East" is located along the Green Mountains, providing a
gorgeous display of autumnal colors bursting from the seams. This area is also known for apple cider, so enjoy a stop at a cider mill where you can try their unique apple cider doughnuts and their famous, sweet and crisp beverage. (B, L, D)
Day 6: October 12 Stowe, VT / York, Maine / Dover, New Hampshire
Today will be a kaleidoscope of colors as we cross the northern section of Vermont and into New Hampshire. Make our way to The Castle in the Clouds, a mansion built in 1914 that featured state-of-the-art amenities such as central vacuum and a house-wide intercom system. Despite its modern features, the home was designed to harmonize with its surroundings, using natural and sometimes local materials like Maine white oak timbers or local rhyolite and Conway pink granite for the stone veneer. Not only is this a very interesting build, but the views are spectacular! Travel through this scenic area, a major pass through the White Mountains of New Hampshire, as we make our way into Maine. We are treated to their local delicacy - a lobster dinner with New England clam chowder. This fun event teaches you how to eat lobster like a pro! (B, L, D)
Day 7: October 13 Dover, NH / Boston Logan Airport
See the Nubble Lighthouse and take a trip across the border into Maine. For those who have never visited the state of Maine, you may now check it off your list! Dropoff at Boston Logan Airport for your return flight home. (B)
Rupiper Tours reserves the right to make minor adjustments to the itinerary if necessary.
What's Included
All Hotel Accommodations • Most Meals (B, L, D)
Deluxe Motorcoach Transportation
All Admissions to Events Listed • Driver Gratuities
Multiple Farm Visits • Rupiper Tour Manager Throughout
Need help? Call us at
1-(888) 414-4177
or (605) 665-1212 for local callers
Tours Recommended for You