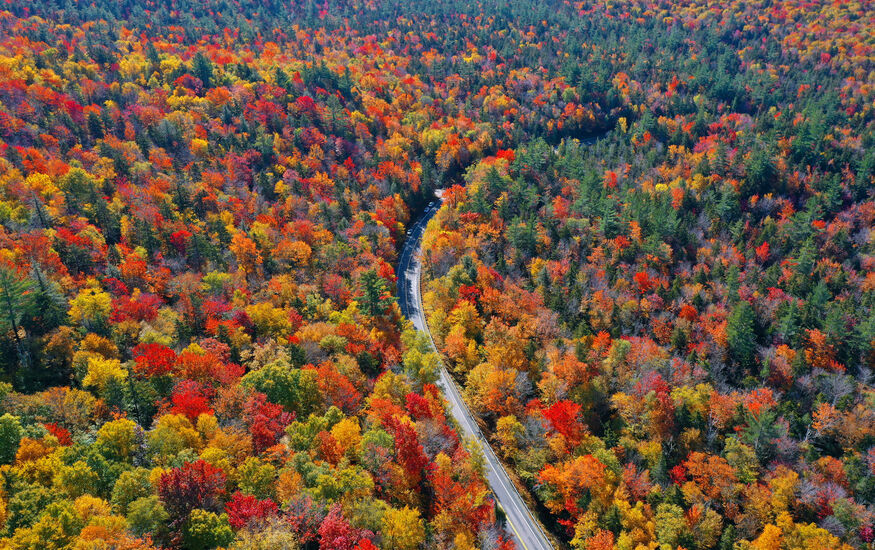 Autumn in New England - Fall Colors
Take in the beautiful autumn array of gold and auburn leaves as you enjoy an integrated farm tour. This is truly a once-in-a-lifetime experience - join us and see why everyone speaks so highly of this colorful adventure. Travel through the most colorful states in the Union: Vermont, New Hampshire, and Massachusetts. Begin in historic Boston and witness the incredible transformation of scenery as we make our Newport, Rhode Island, filled with unique architecture and New England opulence. Journey through the picturesque White Mountains, visit a cranberry farm, a maple sugar farm, and much more!
Itinerary
Day 1:  Arrive in Boston, Massachusetts
Your tour begins in Boston, the epicenter of Liberty. Transfer from Logan Airport on an easy shuttle ride to your included hotel. Rooms are guaranteed after 3:00 PM. Your Rupiper Tour Manager will be on hand to brief you on the ensuing days. 
Day 2:  Boston, Massachusetts / Hyannis, Massachusetts
This morning enjoy a city tour of Boston with commentary from your local guide while visiting many important places, such as the site where Paul Revere began his famous midnight ride from Lexington to Concord. Visit Lexington where the Minutemen had their first skirmish. See the Battle Green where the first shot was fired, heard around the world and signaled the beginning of the American Revolution. Continue on past Plymouth Rock where the pilgrims and the Mayflower landed in 1620.  Here we change the pace a bit and show you some rather unique agriculture. Have you ever wondered just where those cranberries were grown that you have for holiday dinners? Well Massachusetts is home to a lot of cranberry farms! We'll visit a large cranberry farm and learn all about this fascinating crop that is so different from most. The harvest will just be starting, which is always fun to witness! Experience an incredible transition as we travel to Cape Cod.  See those pastel colored Cape Cod style homes in the area where the Kennedy compound was and where the former President John Kennedy's summer home resides. We stay the night in Hyannis, MA.  (B, D)
Day 3:  Hyannis, Massachusetts / Berkshire Mountains, Massachusetts
Journey northwest through the beautiful Berkshire Mountains of Massachusetts, where Norman Rockwell spent his last 25 years. Visit the Norman Rockwell Museum to remember some of the famous Saturday Evening Post front covers depicting the everyday life of the average American.  We stay the night near the Berkshire Mountains.   (B, D)
Day 4:  Berkshire Mountains, Massachusetts / Woodstock, Vermont / White River Junction, Vermont
We continue on through the Green Mountains of Vermont and on to the little town of Woodstock, VT known as the prettiest small town in America. Not to be confused with Woodstock, the rock festival of the 60's. Enjoy the balance of the afternoon exploring this quaint little town. We overnight in nearby White River Junction.  (B, D)
Day 5:  White River Junction, Vermont / Waterbury, Vermont
Watch the fall colors explode as we travel along a country road past Plymouth Notch, the birthplace of former President Calvin Coolidge. As we continue to explore the quilting of colors, we'll stop for a visit to a special organic grain farm. This is a seventh generation farm owner who spent a lifetime in the dairy business and later transitioned from dairy to growing organic grains. Tom decided to not only grow grains but to process them as well. He spent the last 30 years perfecting his craft and soon developed the Nitty Gritty Grain Company, born out of the idea that organic, small batch grains taste better and are better for you than conventional produced grains. Tom wanted to create an honest brand that customers could trust in quality and know the source of their product. Nitty Gritty is a single-source brand, with grain grown and produced by owner, Tom Kenyon, in the Champlain Valley of Vermont. Following this visit we'll travel to some of the most scenic fall color regions in all of Vermont. We'll stay the night in the small town of Waterbury, nestled in one of the most beautiful areas in New England. (B, D)
Day 6:  Waterbury, Vermont / Wolfeboro, New Hampshire / Dover, New Hampshire
Today we continue our visits to some of the best areas showcasing New England's beautiful autumn colors. We'll drive through the White Mountains of New Hampshire and on down to a quaint little town of Wolfeboro in New Hampshire, home to the first summer resort in America. From here, as we revel in the beautiful fall colors, we'll journey to the town of Dover, where we'll spend the night. After a long day you deserve a great dinner and great it will be as you feast on some of the best lobster or seafood on the planet.  (B, D)
Day 7:  Dover, New Hampshire / Boston, Massachusetts
This morning, we travel back to Boston and connect with our return flights home. (B)
Rupiper Tours reserves the right to make minor adjustments to the itinerary if necessary.
What's Included
All Hotel Accommodations • Most Meals (B, L, D)
Deluxe Motorcoach Transportation
All Admissions to Events Listed • Driver Gratuities
Multiple Farm Visits • Rupiper Tour Manager Throughout
Need help? Call us at
1-(888) 414-4177
or (605) 665-1212 for local callers
Tours Recommended for You