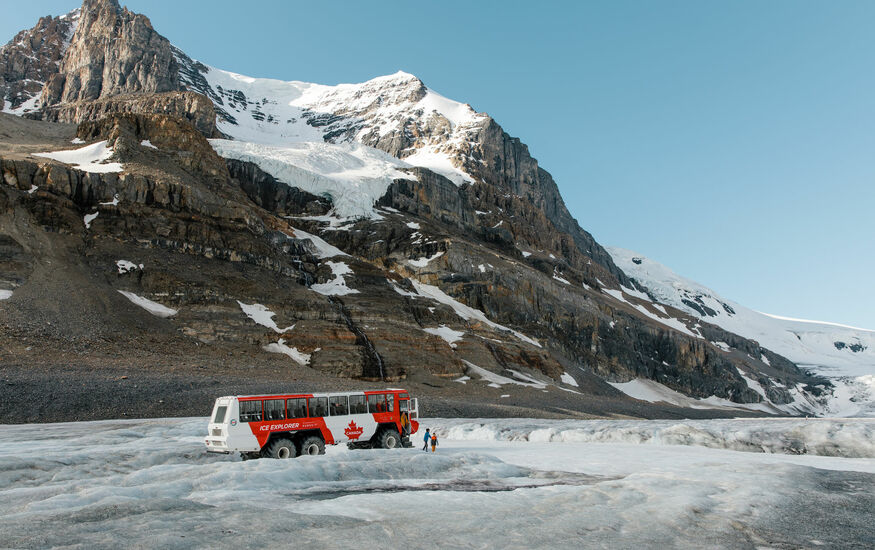 Glacier National Park & Calgary Stampede
Dates Available
July 6 - 13, 2023 SOLD OUT
Itinerary
Day 1: Thursday, July 6 Arrive Calgary, Alberta, Canada
Upon arrival in Calgary transfer via shuttle service to our Airport Hotel, where you meet your tour manager and fellow travelers. It's Stampede week and festivities will be plentiful for you to enjoy. Don't forget your Western Wear. Boots, hats and jeans!
Day 2: Friday, July 7 Calgary Stampede / Chuckwagon races / Big stage entertainment
This morning we watch the Stampede Parade from the comfort of our prearranged seating area. This two-hour extravaganza includes celebrities, like past parade marshels Kevin Costner, William Shatner, Sam Elliot, to name a few. Enjoy majestic horses, high-energy marching bands, horse-drawn wagons and multi-cultural floats, featuring First Nations Peoples wearing splendid regalia. Later, our motor coach transfers you to the Stampede grounds where a myriad of events are taking place, such as live music, livestock entries and so much more. Tonight's entertainment includes the Cowboys Rangeland Derby chuckwagon races and the Bell Grandstand Show. The thrilling Chuckwagon race begins at 7:45 with a gun shot, when the chuckwagons make a figure eight before thundering hooves are racing down the track, trying to reach the finish line in less than two minutes. The prize money for these races total more than $1 million! The excitement continues with world famous musical acts. Audiences are dazzled with elaborate song and dance numbers, acrobatics, and a spectacular fireworks display in the night sky! B, D
Day 3: Saturday, July 8 Calgary Stampede Rodeo
Sleep in this morning after a night of fun! Mid-morning we transfer to the Stampede grounds so you can continue exploring until the kick-off of the Stampede Rodeo, the World's Largest Outdoor Rodeo. Watch, from your assigned grandstand seat, fierce competitors and animals and the cowboy's and cowgirl's furious display of skills and grid. B, D
Day 4: Sunday, July 9 Calgary / Columbia Ice Fields / Rocky Mountain House
Today we travel via Banff to the Columbia Icefields, one of the largest non-polar ice fields in the world. Here you can step foot on a glacier and imagine the history behind these slow-moving frozen rivers of water originating at the crown of the mountains. You won't just look at the glaciers from a distance, but ride on a giant ice buggy across them with an opportunity to climb off and walk on the glacier and also view the spectacular Athabasca Falls. The Icefields Parkway has been recognized as one of the most scenic drives in the world, so you are sure to enjoy today's journey! Top it off with a unique perspective, as you walk across the Columbia Icefield Skywalk – the glass-floor observation platform overlooking a 900 ft drop. This gives you a perspective of the overall grandeur of the icefields. Travel to Rocky Mountain House, a small Canadian town of 6,600 people, where we enjoy dinner and overnight. Rocky Mountain House is known as the place "Where Adventure Begins!" B, L, D
Day 5: Monday, July 10 Rocky Mountain House / Farm / Calgary
Meet the owner of a company that builds oil and gas pipelines. This interesting gentleman started with one small backhoe and grew into a giant company. Visit a farm to understand agricultural in west central Canada. See their crops, learn about their yields, and discuss the overall economy of Canadian Agriculture. We'll travel back to Calgary for our overnight stay. B, L, D
Day 6: Tuesday, July 11 Calgary / Rockies / Kalispell, Montana
Travel across the border into the USA on our longest and most scenic journey of the tour as we make our way over mountain tops, through valleys and crossing the majestic Rockies enroute to Glacier National Park. Glacier is at an apex of the continent and one of the few places in the world that has a triple divide. Water flows to the Atlantic, Pacific, and Hudson Bay. You'll love driving along the Going-to-the-Sun Road, one of the most scenic roads in North America, and a National Historic Landmark. We overnight in Kalispell, Montana. B, L, D
Day 7: Wednesday, July 12 Glacier National Park / Kalispell, Montana
This morning we enter the Crown of the Continent, Glacier National Park. Traverse this unbelievable scenic terrain in customised vehicles that are able to navigate the small winding roads accross this remarkable landscape. Enjoy local commentary while taking in awe-inspiring vistas of mountain ranges carved out by prehistoric ice rivers. See lush alpine meadows, magnificent forests, thundering waterfalls and glistening glaciers which feed countles sparkling lakes. This night we stay near the Glacier National airport in Kalispell, Montana. B, D
Day 8: Thursday, July 13 Flight Home
Transfer to the airport for your return flight home.
Rupiper Tours reserves the right to make minor adjustments to the itinerary if necessary.
What's Included
Included Amenities
All Hotel Accommodations
Meals as Indicated (B, L, D)
Deluxe Motorcoach Transportation
All Admissions to Events Listed
Driver Gratuities
Farm Visit
Rupiper Tour Manager Throughout
Need help? Call us at
1-(888) 414-4177
or (605) 665-1212 for local callers