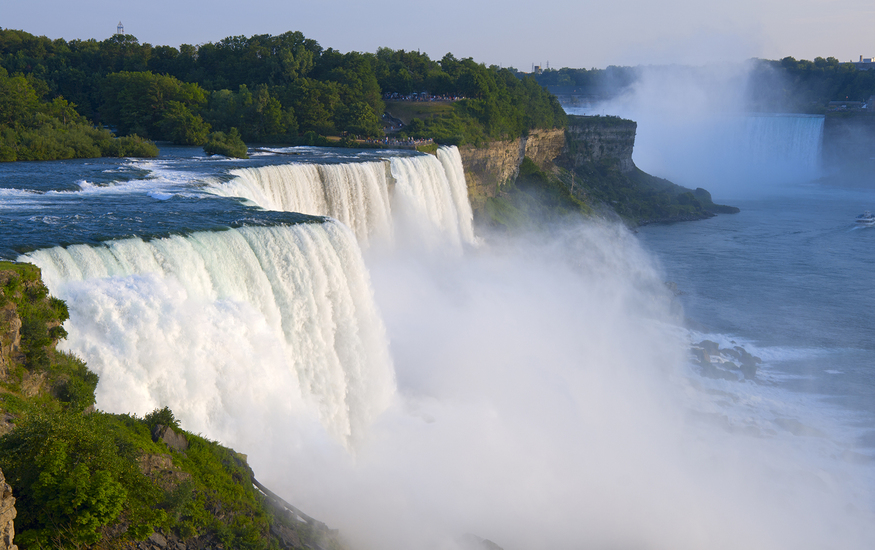 Canadian Farm & Niagara Falls
Canada, especially the Ontario province, is packed full of interesting and innovative agriculture. Our tour begins in Detroit and travels northeast to the town of Blenheim, Ontario. Here you'll see tobacco, tomatoes, white beans, cabbage, peas, pickles, corn, and wheat on several area farms. This variety of tobacco may differ from any other type you have seen around the world. Traveling north, you'll see progressive farms, including one that harnesses methane from a nearby landfill for their agricultural needs. See a huge 40-acre greenhouse that houses red, yellow and orange bell peppers, visit a farrow-to-finish operation that will sell 40,000 fat hogs per year, poultry broiler barns, and a conventional cash crop farm growing corn, wheat and soybeans. Chat with a farmer who is also the chairman of a large packing plant to learn how they coped with the early COVID-19 crisis. Travel southeast to visit a large ginseng farm and learn about growing, harvesting, and selling this interesting product. We finish with a visit to Niagara Falls to enjoy one of the largest waterfalls in the world. View these impressive falls while meandering along its banks and also from the giant sky view Ferris Wheel – which provides a whole different and unique perspective. We'll visit wineries and vineyards as well as a local brewery owned by a farmer. Visit Toronto, Canada's largest city, and dine in the CN revolving restaurant, known for being the tallest tower in the western hemisphere, for incredible views of the city.
Dates Available
September 14 - 20, 2023 SOLD OUT
Itinerary
Day 1: Detroit, MI
Arrive in Detroit and meet the hotel shuttle which takes you to your hotel. Your Rupiper Tour Manager will meet you in the hotel lobby upon arrival or Friday morning at breakfast.
Day 2: Detroit, MI / Chatham, Ontario, Canada / Ridgetown / Strathroy, Ontario
Depart Detroit to visit the world-famous RM Classic Auto Restoration, in Chatham, Ontario. This company is widely recognized, for customers all over the world, as North America's leading high-end classic car restoration facility that restores cars to better than new condition. These rare cars are frequently auctioned off at Barrett-Jackson Auction Company and other auction houses of that caliber around the world. Jay Leno, Nicholas Cage and many others have done business with this world-renowned body shop. We continue to Ridgetown for our first farm visit. Meet Mark and Wilma Boersma, who are hosting a lunch for us prior to visiting their rather sizable, cutting-edge farm where they produce corn, soybeans, wheat, white beans and peas. The Province of Ontario's lush soils also generates a flourishing tomato crop. Most farmers in this region grow wheat and corn, but also produce specialty crops for high profits if all goes well. Next, we visit a large tomato producer, who not only grows tomatoes, but various cereal crops on their nearly 20,000-acre farm. Retire tonight in Strathroy, Ontario, your home for three nights. B, L, D
Day 3: Watford / Farm Visits / Strathroy
Traveling north, we visit the farm of George and Carolyn Cornelissen in Watford, Ontario. Their diversified operation is split into three divisions: A) Cash Crops consisting of corn, wheat, and soybeans grown on 2,750 acres. B) Twin Creeks Greenhouse Inc. is growing red, yellow, and orange bell peppers in a huge 40-acre greenhouse, with an automated picking and packing system on another four acres, for the utmost efficiency. They harness the methane produced by a local landfill to aid in heating the greenhouses through the winter months. C) Cornelissen Poultry Inc. owns and operates six broiler barns that produce 8 + pound birds. The barns are state of the art concrete (sandwich) walls with evaporating cooling pads, floor heat with hydronic heaters and heat exchangers. Overnight in Strathroy, Ontario. B, L, D
Day 4: Thedford / Farm Visit / Strathroy
It's only a short distance to Thedford, Ontario, where we meet up with Will and Michelle Peters of the Henry J. Peters Farms Ltd. They run a farrow to finish hog operation, including a new state of the art 3,000 sow farrowing unit that brings the total farrowing numbers to over 5,000. The operation has been selling 40,000 market hogs each year from their existing farrowing unit, and the production from their new farrowing facility will be offered for sale as early wean pigs. The Peters' also grow several thousand acres of corn, specialty beans, and wheat for manure rotation, making this operation totally integrated. Learn how their local cooperative processing facility, Conestoga Meats, coped with Covid 19 and the difficulities it brought to the industry. Enjoy a special visit and dinner at their lakeside cabin on one of the great lakes, Lake Huron. Overnight in Strathroy, Ontario. B, L, D
Day 5: Strathroy/ Farm Visit / Niagara-on-the-Lake
Northeast of Strathroy we visit a large-scale farmer who also operates a grain elevator including in his grain storage units, a 600,000-bushel silo. Among his land acquisitions is a single piece of land, that is 2,200 acres, all in one contiguous plot. This farmer, who is diverse in many aspects, grows corn, soybeans, wheat, barley, and buckwheat. He also does some container shipping to international buyers of certain crops. Following this visit we travel south to the Simcoe, Ontario area, for a visit to a farmer who is growing Ginseng. Everyone has heard of Ginseng, but few people know much about it. Learn about this unusual crop, its uses, viability and profit margins. Today's last destination is Niagara-on-the-Lake, Ontario. B, L, D
Day 6: Niagara Falls / Buffalo, NY
Niagara on the Lake is a picturesque little town, that will absolutely enchant you with its lovely flowers and little boutique shops. Stroll the quaint streets and enjoy lunch and a wine tasting at a great winery. Continue to the majestic Niagara Falls, where you'll see both sides of the falls. The thundering water falls are fed by the Niagara River, which is considered young, only existing about 12,000 years which is a micro-second in geological time. The Niagara Escarpment which was created by erosion is much older. The glaciers pressed down on the land during the last ice age and laid down layers of sediment then the slow process of erosion of ice and water ate away the surface of the escarpment. The mighty river plunges over a cliff of dolostone and shale. Niagara Falls is the largest waterfall (by volume) on the globe. One fifth of all the fresh water in the world is contained in the four Upper Great Lakes – Michigan, Huron, Superior and Erie. The entire outflow empties into the Niagara River and eventually cascades over the Falls. After a leisurely stroll along the Falls, we take you on the Sky Wheel on the Canadian side for incredible views. Now it's time to cross the border to view the Niagara Falls from the United States' side and then, travel just a short distance to Buffalo, NY. Overnight near the airport. B, L, D
Day 7: Buffalo, NY
A short transfer to the Buffalo Airport to board your return flight home. B
Rupiper Tours reserves the right to make minor adjustments to the itinerary if necessary.
What's Included
Transportation by Deluxe Motorcoach
All Hotel Accommodations
Meals as per itinerary B: Breakfast, L: Lunch, D: Dinner 
Admission to events, special sights, and activities listed
Need help? Call us at
1-(888) 414-4177
or (605) 665-1212 for local callers
Tours Recommended for You