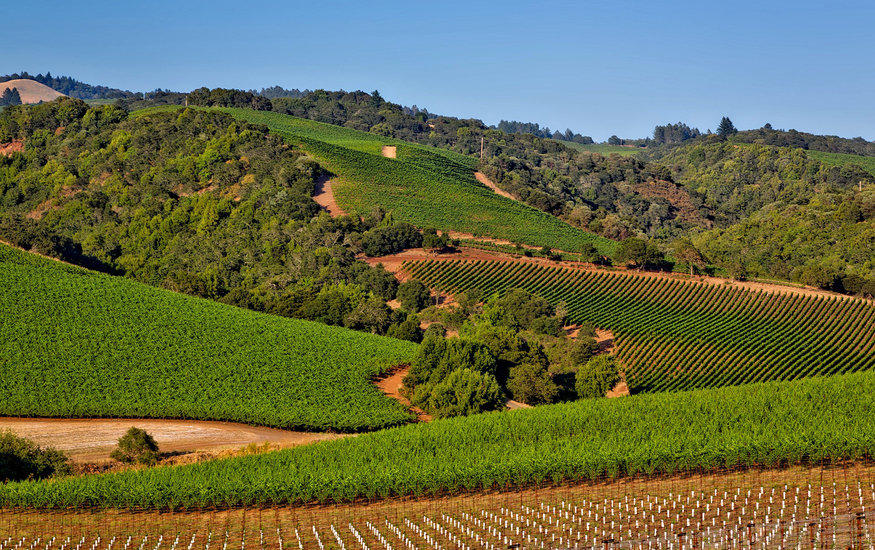 California Farms & Napa Valley
The California valleys have some of the best soil in the world, as well as incredible growing conditions. Sacramento, California, where our tour begins, is the epicenter for growing fruit, nuts, vegetables, and berries. Travel through the San Joaquin Valley and talk with farmers for a real feel of California agriculture. Visit San Francisco, travel across the Golden Gate Bridge, drive through the Napa Valley wine country and taste some of their famous wines. See the giant and impressive redwoods including one so huge that a full sized pickup truck can pass through.
Itinerary
Day 1:                                                             Arrive in Sacramento
Fly into Sacramento, California and shuttle to your included airport hotel for an overnight stay. 
Day 2:                                                             Sacramento
Meet your tour manager and begin with a tour of Sacramento followed by a visit to a nearby farm growing tomatoes.  Sacramento is the quintessential growing area for tomatoes and other crops including rice, almonds, walnuts, plums, peaches, wheat, olives, corn, alfalfa, pears, sunflowers, grapes, kiwifruit, and hay. The variable soil types in the Sacramento Valley influence where specific crops will be grown.  California grows virtually all of the nation's almonds, with plenty extra for export.  Blue Diamond, for example is a century old Sacramento-based cooperative that is owned by more than 3,000 California growers. We'll spend the balance of the day visiting various farms in the area, staying the night in the Sacramento area.   (B, L, D)   
Day 3:                                                             Winters
We travel north about an hour to Winters, CA for a visit to a large farm growing walnuts. Dixon Ridge Farms grow, buy and process California organic walnuts.  They were established in 1979 and soon became the leader in organic walnut growing and processing with buyers worldwide. A vertically integrated farm operation, they raise, hull, dry, shell, sort, store, package, and sell their product around the United States. They market walnuts to hundreds of customers with a consistent supply of their finest quality products all year long.  (B, L, D)
Day 4:                                                             San Joaquin Valley
Today we visit San Joaquin Valley, which is comprised of eight counties that have some of the most fertile and important farmland in the world.  Extending from Shasta County in the north to Kern County in the south, the valley covers about 18,000 square miles and parallels the Pacific coast for about 450 miles.  About 40 miles in width and almost totally surrounded by mountains, this very fertile delta-type soil can grow almost anything. However, it is often written-off by Californians and nicknamed "The Other California," because its unique agricultural character is distinct from the state's tourist and metropolitan areas. The farms here are not large by today's standards.  They range from 60 to 1,000 acres or more. During the great depression, wells went dry and farmers went broke. This prompted the federal government to launch the Central Valley Water Project, building dams, reservoirs, aqueducts, canals, tunnels, and lateral ditches to send water up and down the state. However in 2015, towards the end of a seven-year drought, many farmers let millions of acres go unplanted, costing the agriculture industry billions of dollars. We'll visit some of these farms to learn more about their operations.  (B, L, D)
Day 5:                                                                         San Francisco
Today we change the pace a bit and travel to San Francisco via the Golden Gate Bridge. You'll see views of the world-famous Alcatraz Prison, tour the Golden City, and take-in this thriving and innovative region. In the city known for tech, we'll also visit a very interesting company focused on agricultural technology.  Enjoy an evening dinner cruise offering stunning views of the San Francisco Bay. Following our busy day, we overnight in San Francisco.  (B, L, D)  
Day 6:                                                                         San Francisco / Napa Valley
Travel about 50 miles northeast of San Francisco to the famous Napa Valley, home to more than 400 wineries and tasting rooms. I don't think we can see them all, but we'll have fun trying! Napa Valley is known for world-class wine, beautiful countryside, and near perfect weather all year-round. Enjoy a private winery tour and tasting with a designated driver! We'll travel north out of the Valley to a town of about 16,000 for our overnight stay, which will put us around an hour from our next day's activities.  (B, L, D)
Day 7:                                                                         Drive-Thru Tree Park
Our tour continues as we travel north through ranch country and the giant redwoods. Visit the ancient Chandelier Tree, standing at 276 feet tall and 16 feet in diameter and clocking in at 2,400 years old!  You may have seen a photo of this majestic tree featuring a 6-foot-wide tunnel that a car can pass through! We've got to see this and all the beautiful scenery accompanying some of the tallest trees in the world at the Drive-Thru Tree Park. Mid-afternoon we'll travel back to Sacramento for an overnight stay and to prepare for tomorrow's departure.  (B, L, D)
Day 8:                                                                         Arrive Home
Depart from Sacramento airport to your home destination.  (B)
Rupiper Tours reserves the right to make minor adjustments to the itinerary if necessary.
What's Included
All Hotel Accommodations • Most Meals (B, L, D)
Deluxe Motorcoach Transportation
All Admissions to Events Listed • Driver Gratuities
Multiple Farm Visits • Rupiper Tour Manager Throughout
Need help? Call us at
1-(888) 414-4177
or (605) 665-1212 for local callers
Tours Recommended for You