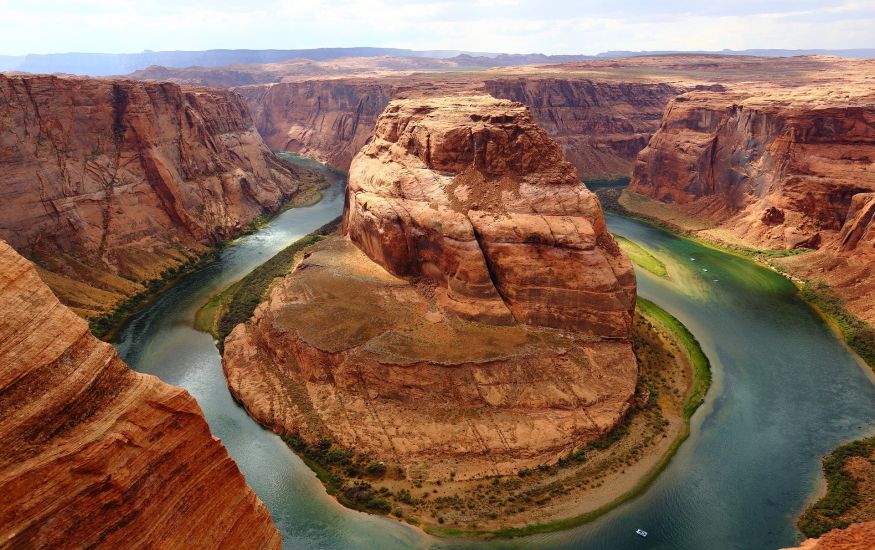 Wide-Open Spaces & National Parks
Explore America's natural splendor in the wide-open spaces of our scenic western states and National Parks. Take-in some of the world's most awe-inspiring landscapes - this is your chance to witness the towering hoodoos of Bryce Canyon, the pristine wilderness of Zion National Park, the intricate rock channels at Antelope canyon, the vast expanse of the Grand Canyon, and the dependableness of the Old Faithful Geyser in Yellowstone National Park. 
Dates Available
August 26 - September 2, 2021 SOLD OUT
Itinerary
Day 1:  Arrive Flagstaff, Arizona
Arrive at the low-traffic Flagstaff Pulliam Airport in Arizona where your scenic adventure begins. Hop on the free shuttle to your included hotel and check in for the night.
Day 2:  Flagstaff, Arizona / Grand Canyon / Page, Arizona
Rise and shine and meet your tour manager for the beginning of your Wide-Open Spaces Tour. Departing at 8:00 AM, we travel north to the Grand Canyon National Park that encompasses a chasm 277 miles long and up to 18 miles wide.  The average depth of the canyon is about one mile. It took three to six million years to form as a result of erosion, and is home to 70 species of mammals, 250 species of birds, and 25 species of reptiles. The Colorado River flows west through the canyon and averages about 300 feet wide and 100 feet deep.  Even if you've seen it before, there is always something new to experience!  You will have time for lunch and lots of photos.  Continuing north to Page, Arizona, we visit Horseshoe Bend, a horseshoe shaped incised meander of the Colorado River also referred to as the "east rim."  Sunset is a great time to take-in this unique sight, and we'll be right on time to casually walk the half-mile trek to the site.  Overnight in Page, AZ.  (B, D)
Day 3:  Page, Arizona / Zion National Park / St. George, Utah
The scenic beauty of the southwest continues as we visit Antelope Canyon, a very unique sight near Page, AZ. Following lunch, we'll travel through Zion National Park.  Much like the Grand Canyon, a river cuts through this beautiful red rock formation creating hauntingly deep caverns and vistas that will be imbedded in your mind forever. Words cannot describe what you'll see in Zion National Park - you have to see it to believe it!  We drive on to beautiful St. George and overnight.  (B, D)
Day 4:  St. George, Utah / Bryce Canyon, Utah / Provo, Utah
Departing St. George, we travel north through Bryce Canyon, a sprawling reserve known for crimson colored hoodoos, which are spire-shaped rock formations.  Unlike the Grand Canyon and Zion National Park, where the picturesque views are best enjoyed from above looking down, in Bryce Canyon you'll look up to view the awe-inspiring 35,000 acres of spire-shaped standing rock formations.  As we travel north, toward Provo, Utah, the Canyon fades away giving rise to crop and grassland with a backdrop of beautiful mountains.  Deep in the heart of it all is the Harward Family Farms, consisting of three distinct farming enterprises; beef cattle, relating crops of alfalfa, grain, and sweet corn, as well as a custom spraying business. The three brothers, Jud, Lenny, and Jake are separately involved in the ownership of the three different enterprises. Jud, has the beef cattle, hay, and grain operation as well as an appraisal business. Lenny has ownership in the custom spraying business and Jake has the sweet corn operation that started small and now has evolved into a very large enterprise. Harward Farms is a well-known name in the agriculture industry around the western U.S.  Jud, Lenny, and Jake, with their extreme diversity, are not as traditional as farmers in the Midwest and Canada. Today Harward Farms has over 2,000 acres under crop production, and mainly markets the production to feedlots for the export market. The Sweet Corn enterprise, which also grows watermelon, cantaloupes, tomatoes, peppers, and pumpkins, markets through 30 roadside stands throughout the state in the summertime.  They also operate Jaker's Jack-O-Lanterns, a pick-your-own pumpkin patch in Springville.  We stay the night in beautiful Provo, which boasts arguably the most dramatic backdrop of the Wasatch Range Mountains.  (B, D)
Day 5:  Provo, Utah / Salt Lake City / Idaho Falls, Idaho
Today we visit the Great Salt Lake, the largest natural lake west of the Mississippi River.  At the current level, the Great Salt Lake is approximately 75 miles long and 35 miles wide. The first scientific measurements were taken in 1849, and since then the lake level has varied by 20 feet, shifting the shoreline in some places as much as 15 miles.  Great Salt Lake is salty because it does not have an outlet. Tributary rivers are constantly bringing in small amounts of salt dissolved in their freshwater flow. Once in the Great Salt Lake, much of the water evaporates leaving the salt behind.  Salt Lake City is also home of the Mormon Temple Square.  We stop to visit this beautiful square, a cornerstone of Salt Lake City. Continue on to Idaho Falls, where we stay the night. (B, D)
Day 6:  Idaho Falls, Idaho / Yellowstone National Park / Bozeman, Montana
Who can resist the excitement of Yellow Stone National Park?  On March 1, 1872, Yellowstone became the first National Park for all to enjoy the unique hydrothermal and geologic wonders. We will spend the greater part of today enjoying the sights and witnessing Old Faithful, which erupts every 35 to 120 minutes for 1½ to 5 minutes. Its maximum height ranges from 90 to 184 feet.  The geyser was named by the first official expedition to Yellowstone, the Washburn Expedition of 1870. They were impressed by its size and frequency. Following our visit to the park we'll drive to Bozeman, Montana for our overnight stay.  (B, D)
Day 7:  Bozeman, Montana
On our final day we visit a cattle ranch near Bozeman. There is nothing more tranquil to a cattleman than checking fences and cattle while riding the sprawling range with snow covered mountains in the background. Montana is well known for great cattle, and nothing beats a long string of Montana feeder cattle when filling a feedlot.  In the afternoon we will visit the Museum of the Rockies in Bozeman. It is the center of active research and exploration into the ancient past and home to one of the largest collections of North American dinosaurs in the world. It houses many examples of the gigantic carnivorous Tyrannosaurus Rex, as well as a growth series of the horned Triceratops showing the range from juvenile to giant. The Siebel Dinosaur Complex has T. Rex, one of the few mounted Tyrannosaurus Rex skeletons in the Unites States, along with dinosaur eggs and babies. We end the tour with a farewell dinner in Bozeman. (B, D)
Day 8:  Depart Bozeman, Montana / Arrive Home
A quick shuttle ride to the airport will conclude your tour.  (B)
Rupiper Tours reserves the right to make minor adjustments to the itinerary if necessary.
What's Included
All Hotel Accommodations • Most Meals (B, L, D)
Deluxe Motorcoach Transportation
All Admissions to Events Listed • Driver Gratuities
Farm Visit • Rupiper Tour Manager Throughout
Need help? Call us at
1-(888) 414-4177
or (605) 665-1212 for local callers
Tours Recommended for You